Fraser Valley Ski Resorts;
Manning Park vs Sasquatch Mountain
The Fraser Valley is home to two small ski resorts, Sasquatch and Manning Park, but where should you spend your next ski and snowboard weekend?
By the numbers:
| | Manning Park Ski Resort | Sasquatch Mountain |
| --- | --- | --- |
| 2018/2019 snowfall | 546 cm | 694 cm |
| Number of chair lifts | 2 | 3 |
| Total ski-able area | 140 acres | 300 acres |
| Number of runs | 34 | 34 |
| Summit Elevation | 1789 m | 1317 m |
| Vertical drop | 432 m | 335 m |
| Distance to Abbotsford Airport | 154 km; 1 h 45 m | 72.5 km; 1 hr 18 m |
| On Resort Accommodations | Yes | Yes |
| Full- price Adult Lift Pass | $69.00 | $64.00 |
Overview:
Manning Park
Manning Park Ski Resort in located in the 708 square KM provincial park named E.C. Manning Park. The park straddles the Lower Mainland and Okanagan regions, creating a varied ecosystem, with diverse range of plants and animals. The resort sits are the approximate highest point of the #3 Hope Princeton Highway. During the 2010 Vancouver Winter Olympics snow was trucked from Manning to park to various Olympic venues, because there was not enough snow in the North Vancouver ski hills.
Sasquatch Mountain
Sasquatch Mountain is located in the Douglas Mountain Range between Mission and Agassiz BC. The Berezan Hospitality Group bought the resort in 2006 and changed the name from Hemlock Mountain Resort in 2017.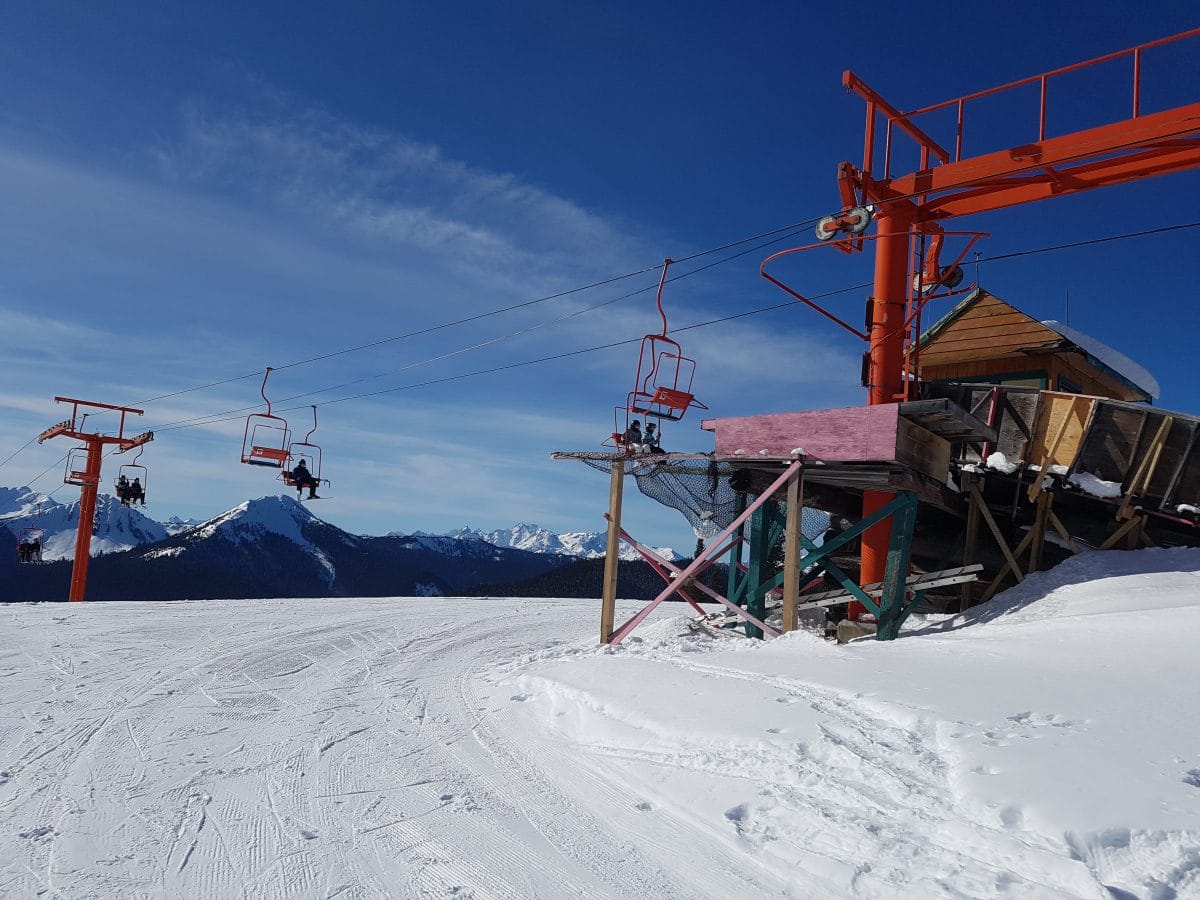 Photo of Manning Park's 1970's era "Orange Chair". It was replaced for the 2019/2020 season with a high speed quad.
Getting There:
E.C. Manning Provincial Park
There a number of transportation options to get you to Manning Park. The #3 Hope Princeton highway cuts right through Manning and is well maintained in the winter, but approved winter tires (Chick here for details on BC's winter tire laws) are required and snow chains are recommended. There is a electric vehicle charging station in Hope and the resort.
Mountainman Mikes operates a weekly shuttle bus from Vancouver to Manning Park with stops at Abbotsford Airport (YXX), Chilliwack, Hope, and other cities are well.
There is a free shuttle bus that runs the several kilometres from the main resort accommodations to the chair lifts, or you can drive yourself up.
Sasquatch Mountain Resort
Sasquatch is located on the #7 Highway, turn North on Morris Valley Road at the Sasquatch Inn and Pub in Harrison Mills. The next 8 km are down a safe rural road. Finally turn left onto Hemlock Valley Road. The next 14 km can be very dangerous and is probably the main single reason that Sasquatch is not a high rated BC ski resort. There are a number steep switch backs without cement barriers. All vehicles must carry snow chains by law and dedicated winter tires are recommended. The snow and ice is regularly cleared but drive with caution and check the current road conditions. Once at the base lodge there is ample free parking.
Best Vancouver Tours operates a private shuttle from Abbotsford, Mission, and the Sandpiper Golf Course to the top of Sasquatch. Visit Best Vancouver Tours for latest pricing and to book a trip.
Manning Park
Manning Park Resort operates 41 hotel style rooms, a number of free standing winter cabins and large chalets, that will meet nearly any groups' needs. Click here to book.
There are privately operated Airbnbs in Sunshine Valley at the west edge of the Manning Provincial Park, about 45 mins from the Manning Park resort.
Sasquatch Resort
There are no corporately operated hotels but there are two buildings filled with privately owned apartments with a outdoor pool, hot tubs, laundry, and party/games rooms within easy walking distance of the main lodge and lifts. There are countless privately owned free standing cabins and large chalets. Check Airbnb for the latest pricing and availability.
Restaurants, Pubs, and Nightlife:
Manning Provincial Park
The Manning main resort area has a few dinning options from the restaurant style Pinewoods Dining Room to the Bear's Den Pub and the formal Cascade Room used for catered events such as the weddings and corporate meetings.
The Manning lodge at at the base of the chair lifts, is the typical old run down ski lodge building serving that typical cafeteria burger and fries combo that will keep the kids happy but any non skiers will quickly become bored with the drab tried building and the lack of entertainment.
Sasquatch Mountain Resort (Hemlock Valley)
The main resort lodge houses the a casual cafeteria style restaurant that won't impress you but will fill you up quickly and get you back on the slopes.
Molly Hogan's is the heart and soul of Sasquatch. The bar features large up mountain views and all of the chairlifts spill into the large welcoming patio. The food is well done but your typical bar fare (try the beef dip); the prices are only a buck or two more than you would spend in Chilliwack or Abbotsford. The decor is a fitting and playful apres ski. Although there is little competition, Molly Hogan's is easily the best bar/restaurant in both Sasquatch and Manning. The welcoming social aspect is impossible to recreate on a large mountain. I would argue that Molly Hogan's is the most social apres ski bar in BC, but I will have to do more research.
If you looking to make it down make it off the mountain and past the most dangerous part of your drive home, check out the Sasquatch Inn Pub inside the log cabin building at the bottom of Morris Valley road and highway #7.
Other Winter Activities: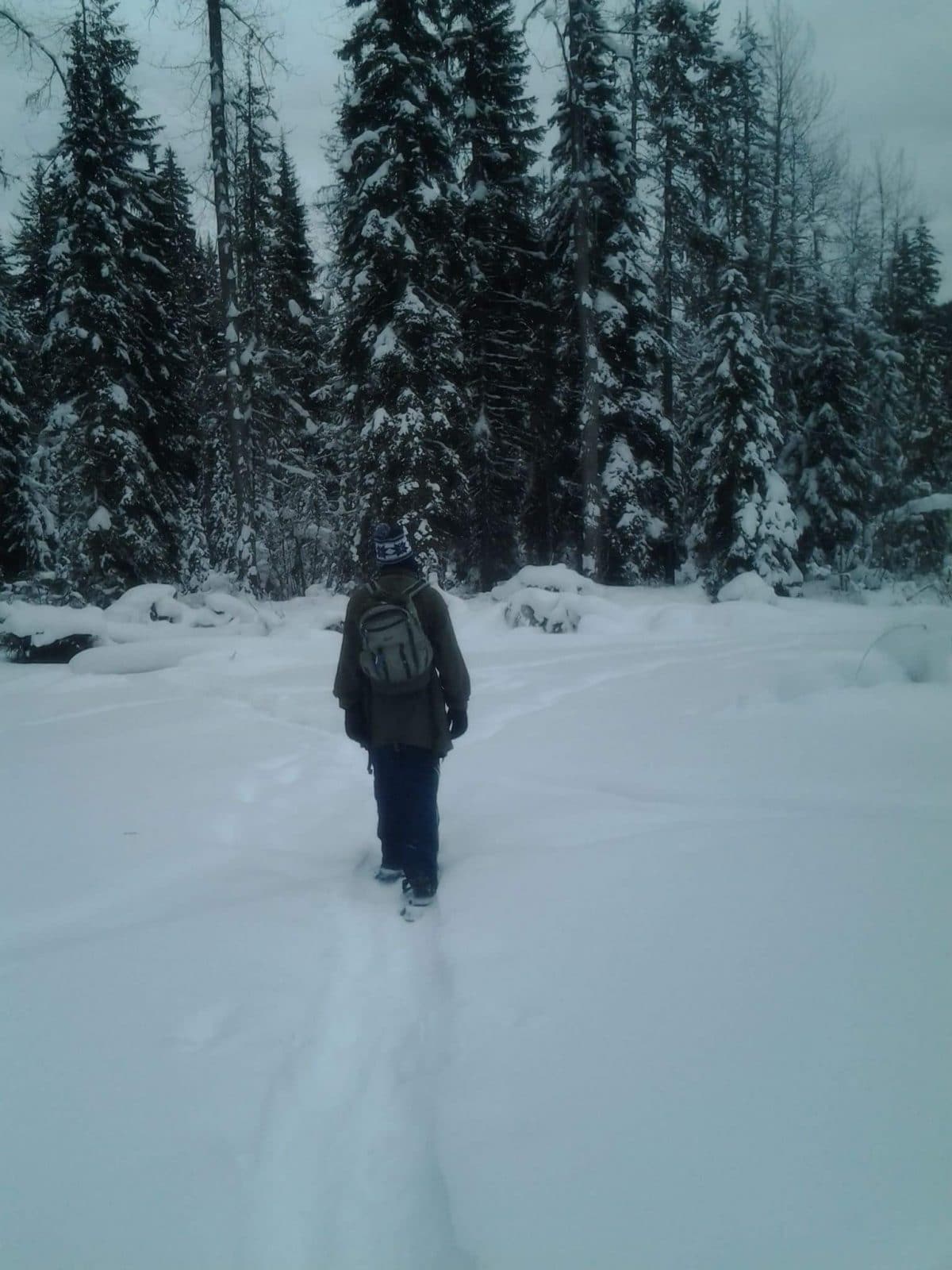 Snowshoeing in Manning Park with rentals
Conclusion:
Both Manning Park and Sasquatch Mountain offer great valve for a weekend skiing and snowboarding getaway. I think that Sasquatch edges out Manning Park for singles and adult only groups, because of the wide range of different ski in/out accommodation types. Manning Park is better for families, because they wider range of young kid friendly actives and the road conditions are generally more accessible for less winter capable vehicles.