Best Wineries under 90 mins from Vancouver
British Columbia wine use to be the ugly step child of the world wine industry. Over the last 40 years the BC wine industry has shaken it's reputation for cheap, sweet, fizzy wines like Baby Duck, and blossomed into a respected wine region on the world stage. There are currently 370 winery manufacturing licences in BC, with 34 in the Lower Mainland alone. Most of the Lower Mainlands' wineries fall in the Fraser Valley between Langley and Abbotsford, because very the availability of farm land and relatively good grape growing micro climate in South Langley. However, there are a few urban wineries in Metro Vancouver's cities.
Most wineries offer a standard four wine tasters, and normally you are welcome to share with your friend. Typically the tastings fee is waved with a bottle purchase, so make sure to pick up a bottle, and support you local wine maker.
Township 7 (Langley)
Township 7 is Located in the heart of the South Langley Wine Route. Sporting an intimate tasting room overlooking rolling hills covered in grape trellis, and a cute white farm house. Township 7's quaint picturesque beauty will make you consider quitting your job, selling everything and starting a small vineyard. Like most Fraser Valley wineries, Township 7 grows some of their white varietals in Langley, but the majority of their grapes are grown in the Okanagan. Township 7's Okanagan vineyard and winery is located in sunny Naramata Bench. It is definitely worth checking out if you find yourself in the Penticton area.
Don't be afraid to ask dumb questions about Township 7 wines or wines in general. The staff are friendly, passionate and knowledgeable about their own and other wines, without being pretentious. I think that Township 7 is one of the best places in the Lower Mainland to learn about wine. For example every year they age a portion of their house chardonnay in oak barrels and a portion in stainless steel tanks; it is an unmatched to experience how oak barrels increase the complexity of wine.
Website: https://township7.com/
Phone: 604 532 1766
Address: 21152 16 ave, Langley Township, V2Z 1K3
Distance from YVR Airport: 50 km; 47 min drive
Best time of year to visit: September for grape harvest or after a little dusting of snow
Recommended Wine: Oaked and unoaked chardonnay (buy one of each for education purposes)
Backyard Vineyards (Langley)
Backyard Vineyards hosts a down to earth, non pretentious tasting room. The staff are very knowledgeable and service focused. Other large tastings rooms get busy and the staff start to rush guests along, but that is not the case at Backyard.
Don't let the down to earth attitude fool you; they have some wonderful top-shelf wines, so don't be afraid to request some reserve wines with your tasting. Backyard offers a wide range of blends and single varietal wines in the $18 to $25 range, and some reserve wines starting at about $45 that truly punch above their weight class.
The food menu is limited to cheese platters and charcuterie plates, despite being surrounded by hobby farms there are not many dinning options in the immediate area.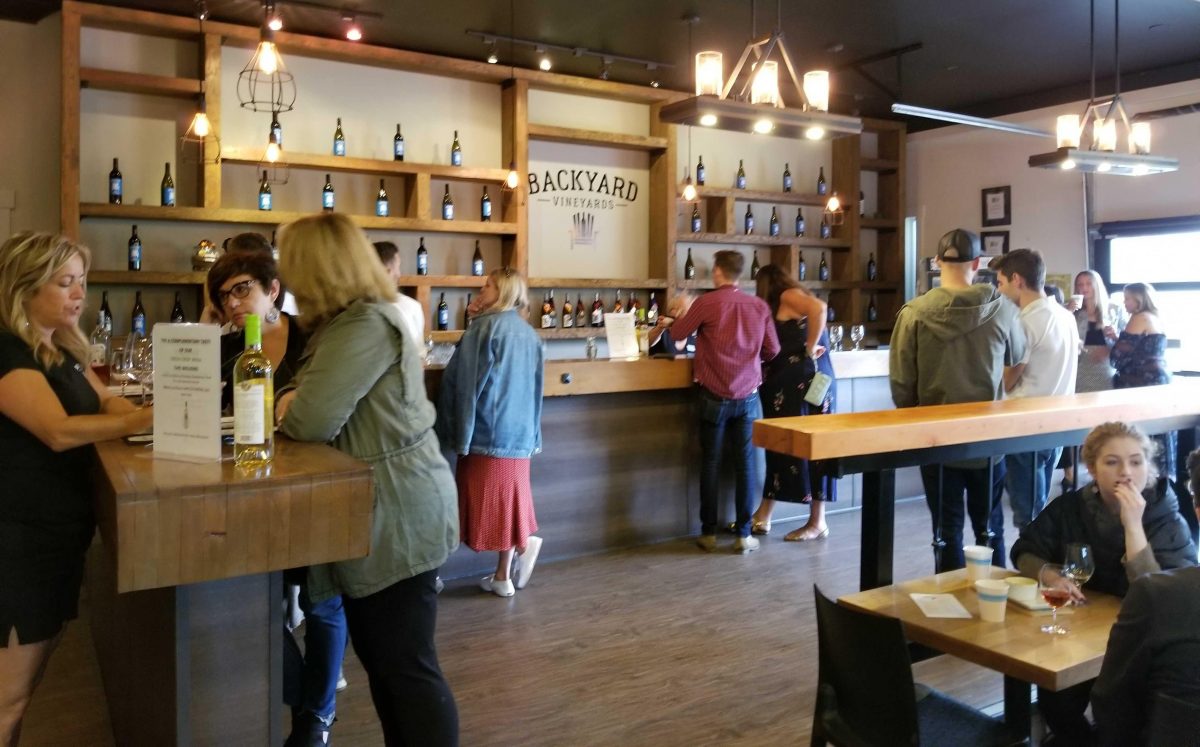 Backyard Winery's Tasting Room
Website: http://www.backyardvineyards.ca/
Phone: 604 539 9463
Address: 3033 232 St, Langley Township, BC V2Z 3A8
Distance from YVR Airport: 57 km; 53 min drive
Best time of year to visit: September for grape harvest
Recommended Wine:
2014 Reserve Cabernet Franc
2015 Gewurztraminer (if you can find it)
Fort Wine Co. (Fort Langley)
Located a short drive east of the Fort Langley Village, Fort Wine Co is a fruit winery best known for their cranberry wines. Cranberry wine tend to be very tart, but they are a native to North America and the Fraser Valley. It is hard to think of a more uniquely local Fort Langley product than a bottle of cranberry wine.
If you have never seen cranberry during harvest, I recommended that you visit the Fort Wine Co during the Fort Langley Cranberry Festival or watch the video below.
How cranberries are harvested 
Website: http://thefortwineco.com/
Phone: 604 857 1101
Address: 26151 84 ave, Langley Township, BC V1M 3M6
Distance from YVR Airport: 65 km; 70 min drive
Best time of year to visit: The Saturday before Thanks Giving during the Fort Langley Cranberry Festival
Recommended Wines:
Mighty Fraser Red Cranberry Wine
Ghost of the Bogs White Cranberry Wine
Seaside Pearl Winery (Abbotsford)
Seaside Pearl Farmgate Winery is a stunningly beautiful with views of green fields and a spectacular view of Mount Baker. But what it is the cute chapel tasting room that truly sets Seaside Pearl apart.
Owned and operated by Allison and David Zimmerman. You will find Allison playing hostess and personally pouring wine. Her welcoming hospitality will make you feel like you are simply visiting a friends large personal wine cellar. David spent years working in the mining industry. All the time dreaming of opening his own winery. Now you will find David managing all aspects of the wine-making process, caring for the vineyard, and leading tours.
Website: https://seasidepearlwinery.ca
Phone: 778 856 1312
Address: 5290 Olund Road, Abbotsford, BC, V4X 1V6
Distance from YVR Airport: 74 km; 66 min drive
Best time of year to visit: September for grape harvest
Recommended Wines: 2016 Interurban Cabernet Foch
Maan Farms (Abbotsford)
Between the fruit and grape winery with a tasting bar, a quick service restaurant, fruit and vegetable store, u-pick berries, goat petting zoo, kids' playground, pumpkin patch, and Halloween haunted corn maze. There is not much you can't do at Maan Farms and it will easily keep your whole busy family all day.
Although Maan Farms grows and ferments pinot noir, siegerrebe and a white blend from their own farm in the Fraser Valley, they are mostly known as an estate berry winery. They offer blackberry, blueberry, raspberry, and strawberry rhubarb table wines for under $20 per 750 ml bottle, along with fortified blackberry, blueberry, raspberry, and strawberry dessert wines for under $30 per 375 ml bottle. Each bottle of wine contains about 2 to 3 pounds of berries, creating a very full-bodied blackberry and blueberry wines that are often mistaken for grape wine. The strawberry and raspberry wines are aromatic and playful.
Located in Abbotsford BC on a farm owned by the Maan family for 3 generations. The farm was started in the in 1977 after the family's now retried grandfather emigrated to Canada in the early 1970s. The first road side fruit stand was opened in 1982. Winery Manager, Gaurav Maan, started making fruit wines in 2013 with the help of French-trained consultant winemaker and distiller Laurent Lafuente. The family now farms about 80 acres and offers a wide range of agricultural tourism activities.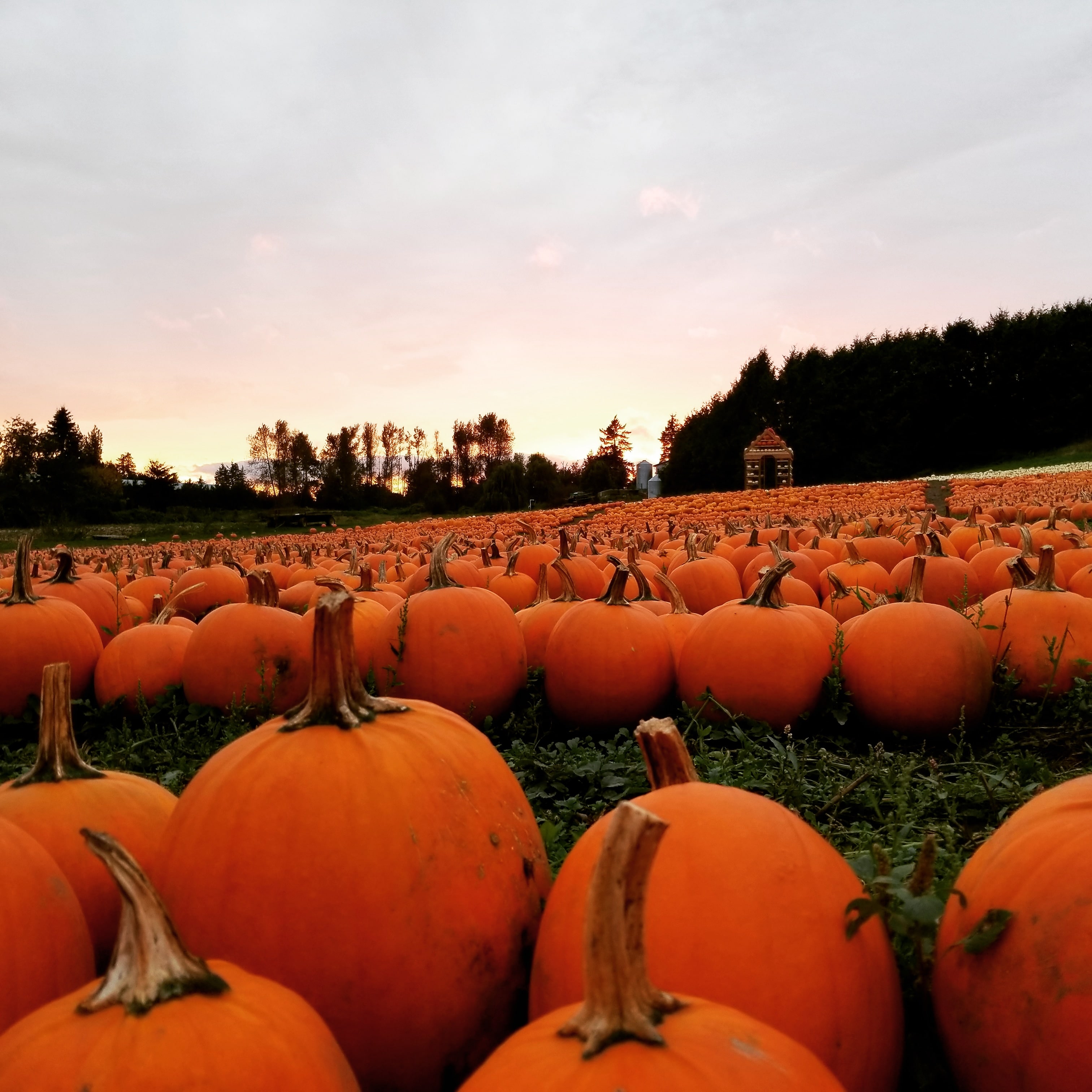 The sun setting over Maan Farmer's annual pumpkin patch
Website: https://www.maanfarms.com
Phone: 604 864 5723
Address: 790 McKenzie Road, Abbotsford, BC V2S 7N4
Distance from YVR Airport: 85 km; 80 min drive
Best time of year to visit: October for the pumpkin patch, haunted corn maze, and of course wine
Recommended Wines:
Maan Trois 2013 (if you can find it)
Jovin Oaked Blueberry (if you can find it)
Blackberry table wine
Kermode Winery
Named after the rare white subspecies of the black bear, Kermode lives up to its unique namesake. The owner and wine maker, Frigyes Geza Sprieszl, ferments only wild BC grown berries. The wines are surprisingly affordable given how laborious it must be to pick wild berry for wine making. Most bottles are under $20 and make for a uniquely BC gift for your out of town guests.
Kermonde is located along Highway 7 between Mission BC and Harrison Hot Springs in a small unincorporated community named Dewdney. The rustic tasting room is located on a small farm and Frigyes seems happy to offer winery tours when it is not busy (which seems to be most of the time given that Kermode is so off the beaten path). Frigyes seems to employ a secret based marketing strategy because his website is a laughable single page and he does not seem to have a Facebook page. Although Kermode claims to be open 6 days a week from noon to 6pm, we strongly suggest calling ahead to confirm that they are open, because they have disappoint many wine lovers that have made the 75 min trip from Vancouver only to be greeted by a closed sign.
Nathan Griffiths Operations Manager
Nathan Griffiths is the Operations Manager for Lifty Life Hospitality. He has over a decade of experience managing small and medium-sized hospitality businesses across western Canada. Nathan has a unique ability to improve operational efficiency and profitability of every property he manages.