Whistler Guide to Waterfalls | Locals Guide
What is a Waterfall?
wa·ter·fall
noun
a cascade of water falling from a height, formed when a river or stream flows over a precipice or steep incline.
We have compiled the ultimate guide to everything you need to know about Waterfalls in Whistler, BC. As one of the largest and most respected resort towns in North America, Whistler is home to many amazing waterfalls. Many of these waterfalls are run off melted from some of Canada's oldest glaciers, meaning some of these waterfalls are ANCIENT.
In this article we will cover the four most beautiful waterfalls in the sea-to-sky corridor. How to access them and even fun facts about why they're so awesome. We will also go over helpful tips including how to photograph waterfalls and exactly what you need to know to be safe and prepared!
Must See Waterfalls in Whistler, BC
Shannon Falls - Squamish, BC
Famously named after the legendary, William Shannon, the falls is the third highest waterfall in BC. These falls can be spotted on the passenger side while driving the Sea-to-Sky highway. If you have passed Sea-to-Sky Gondola you have gone too far! But fear not, because the falls are an easy 5-minute walk from the parking lot. If you keep your eyes peeled you will notice it as you drive past.
You can easily spend the day and even night at Shannon Falls Provincial Park. The park provides picnic tables, public washrooms and even a camping ground for those keen enough to spend the night. 
As mentioned earlier the Sea-to-Sky Gondola traverses The Chief, an enormous and rocky mountain adjacent to Shannon Falls. Many Vacouverites can be spotted hiking or paying to ride the gondola in order to experience the top of The Chief in all its glory. The view overlooking the Howe Sound is nothing short of spectacular.
Difficult Score: EASY
Hiking Distance: 200 - 300 Meters Round Trip
Dogs Allowed: Definitely
Lifty Life Score Rating: 10/10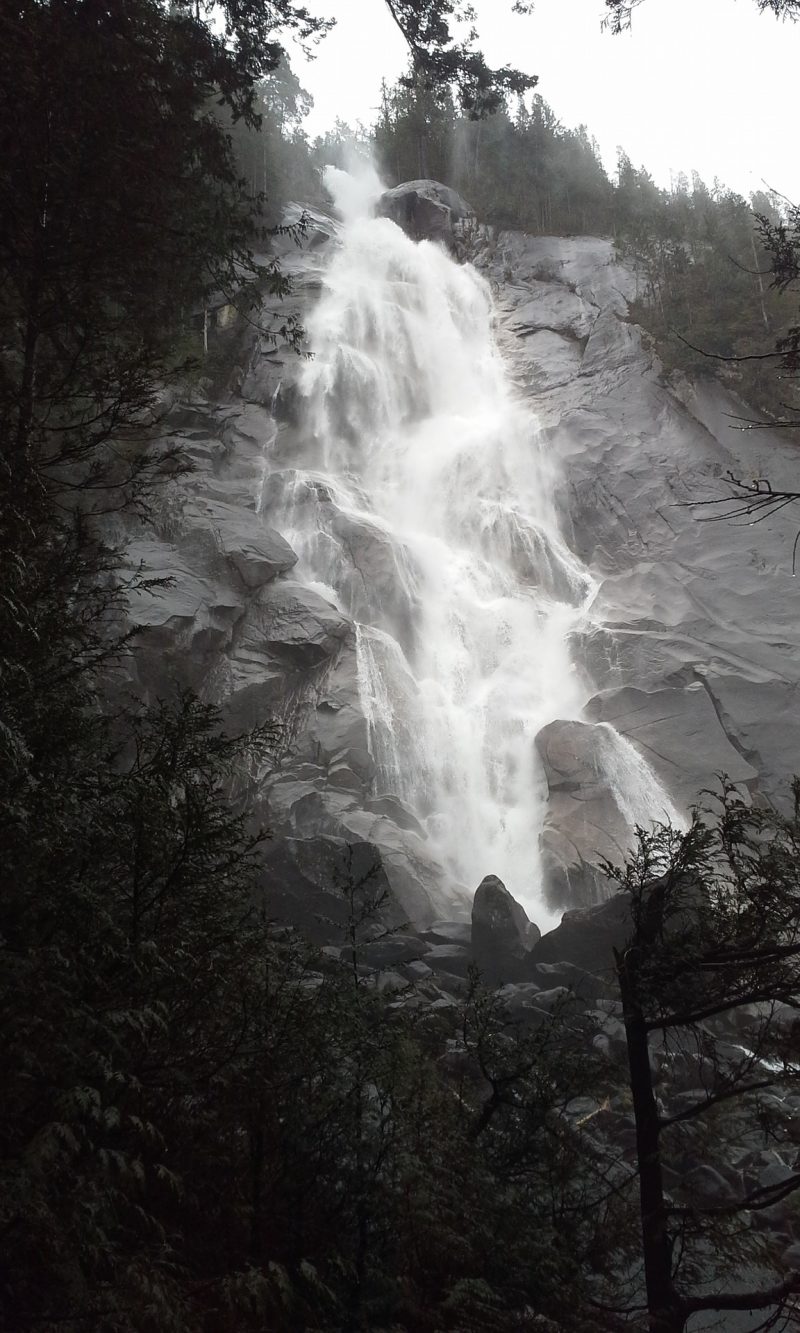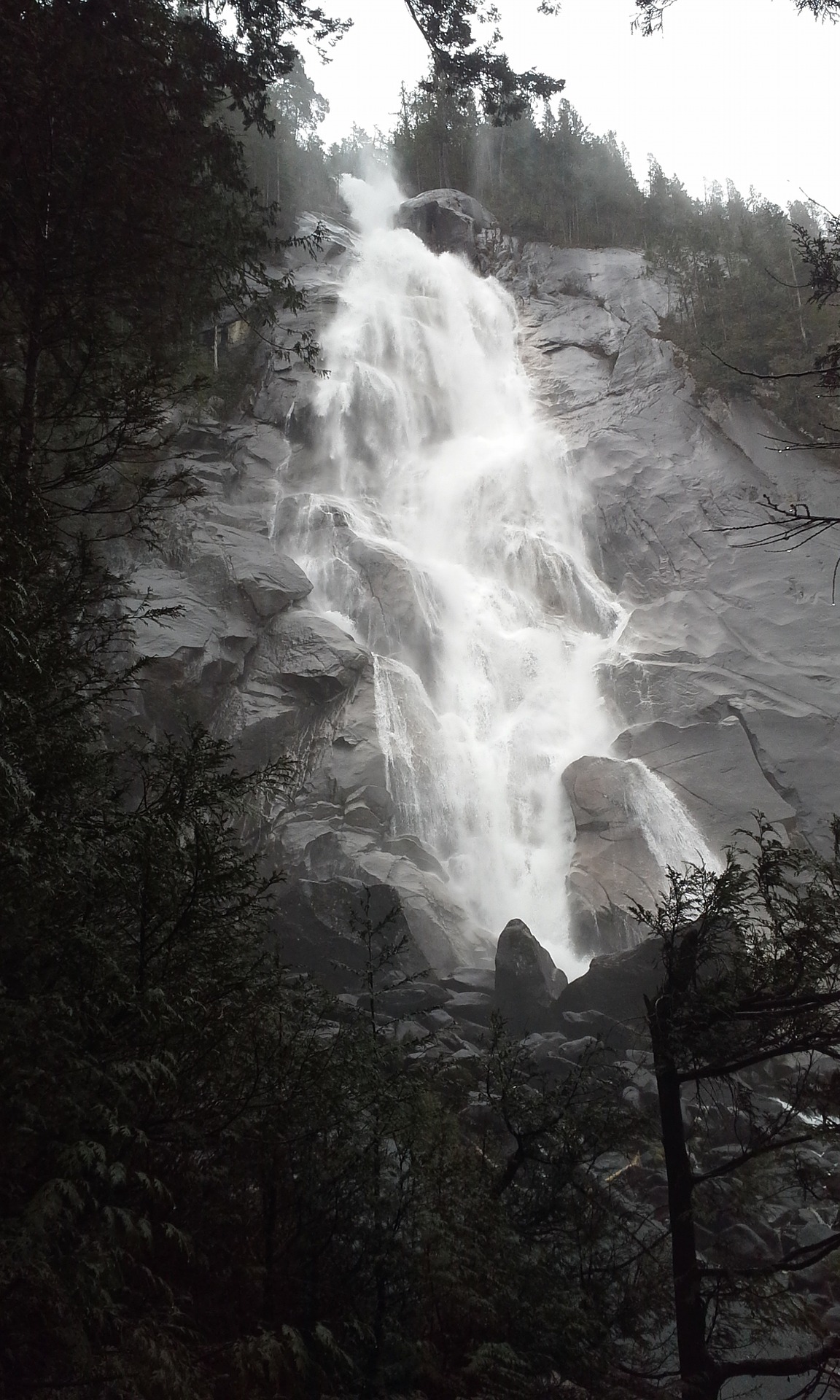 Brandywine Falls - Whistler, BC
Located just 11 kilometers south of Whistler, BC lies another phenomena ledge waterfall. At 70 meters high the falls stands eye-level with the viewing platform. Thus allowing for spectators to comprehend the height and power of the crashing water below. The parking lot is an easy 10-minute walk along a serviced gravel path.
You may notice people down below at the base of the falls posing for photoshoots. Some may even be nude because, as we all know - when in Brandywine Falls… bath nude?  Now.. You may wonder, "how did those people get down there?". Well, technically, the park doesn't want you to because it involves a "dangerous" rocky cliff that you must climb down. But if one were to do it, they would have to continue down the path as it extends past the viewing platform and run into a chain-link fence. If one were to climb over said fence and down the rocky incline, one would eventually end up at the base of the creek where the falls crashes down into.
*We are not responsible for any injuries*
Difficult Score: EASY
Hiking Distance: 2.1 kilometers Round Trip
Dogs Allowed: Definitely
Lifty Life Score Rating: 10/10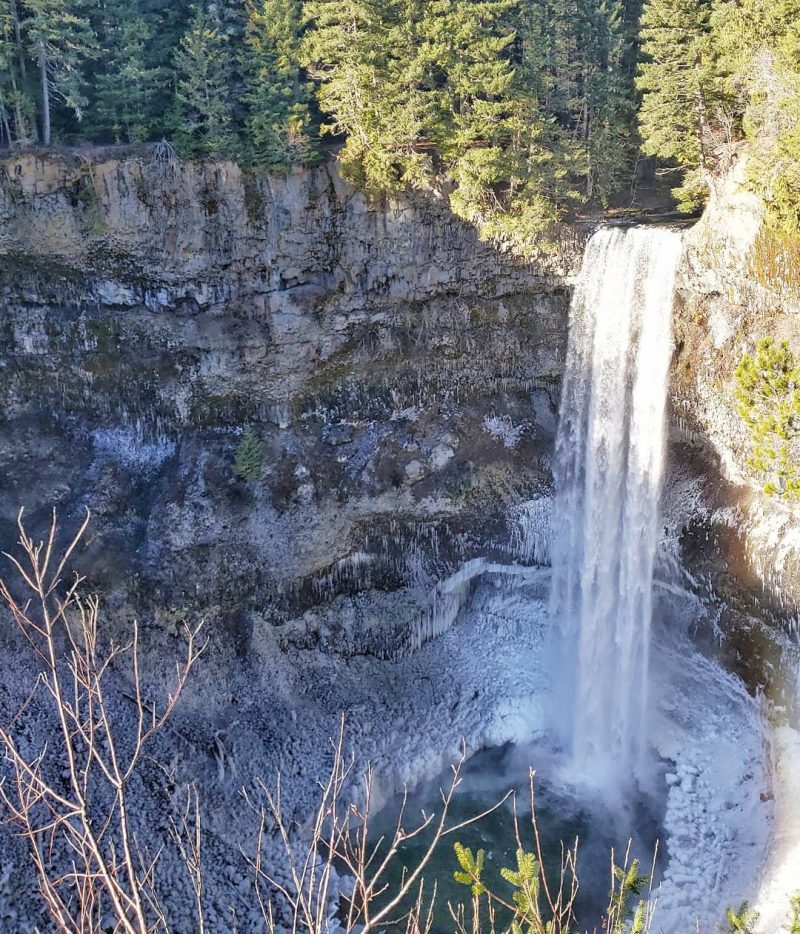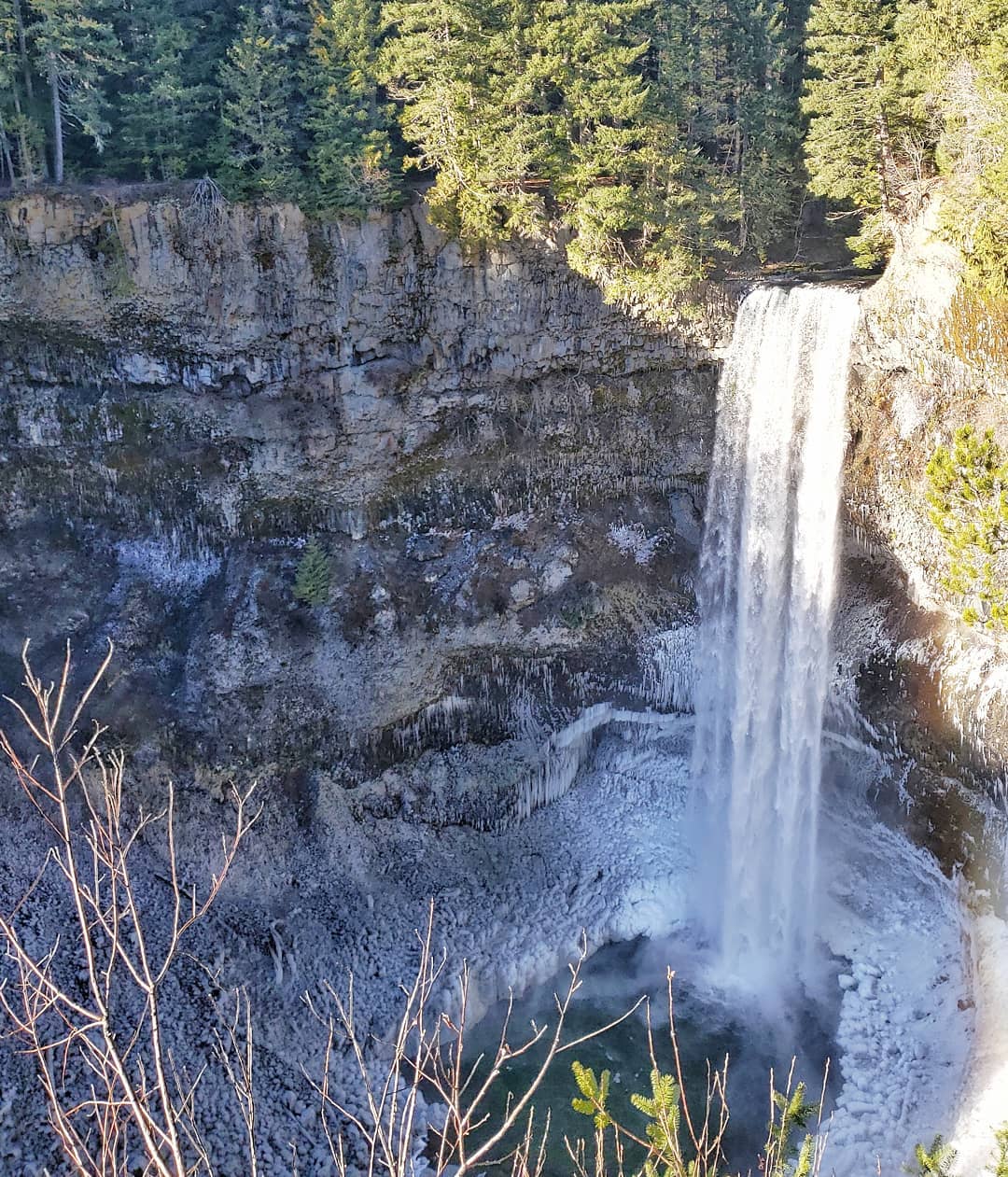 Nairn Falls - Pemberton, BC
Approximately 20 minutes North of Whistler and 5 minutes South of Pemberton lies the majestic Nairn Falls. This waterfall is definitely the most difficult, but still easily doable. Think of it as an easy hike or an extreme walk. Nonetheless, follow the dirt trail along the river for about 15-20 minutes and you will eventually find it. 
There are two waterfalls the chute fall is extremely powerful and dangerous. Warnings all over the area are posted to keep children and families safe from the pounding waters and slippery rock.
Fun Fact
Over 150 million years ago this area was near the shore of a vast ocean. Gradually the Earth's crust moved upwards and crushed nearby volcanic islands against the shoreline. Further upheavals and other movements of the earth's crust changed this area from a seashore to a mountainous area.
*Be extra cautious around Nairn Falls as the currents are extremely dangerous*
Difficult Score: AMATEUR
Hiking Distance: 2.4 kilometers Round Trip
Dogs Allowed: Definitely
Lifty Life Score Rating: 8/10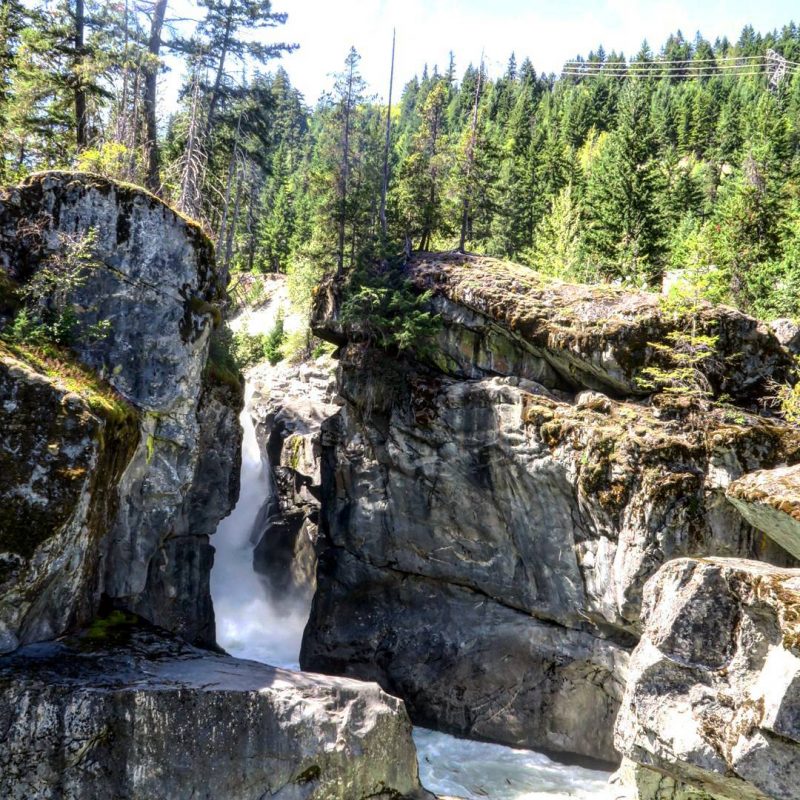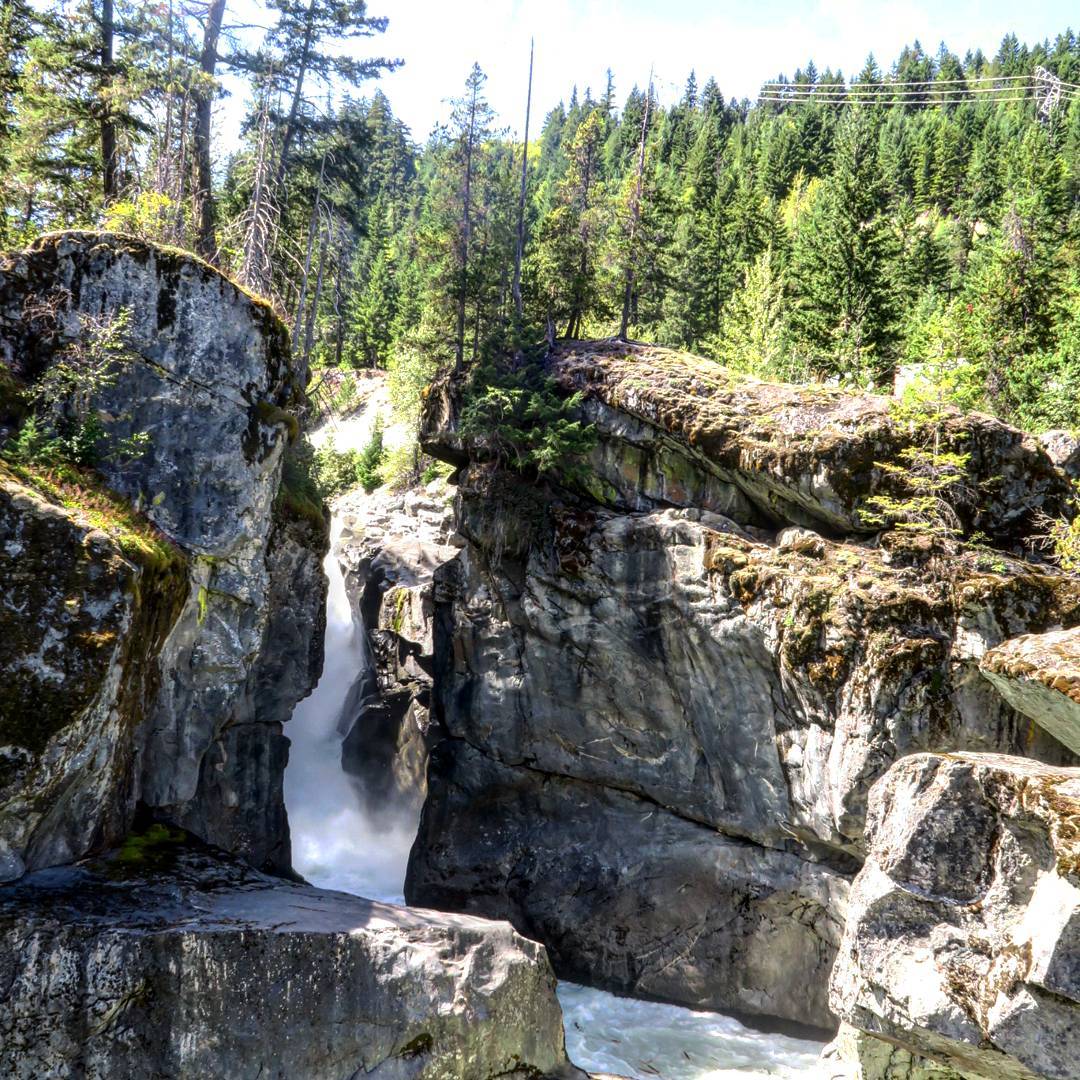 Alexander Falls - Whistler, BC
The lesser known, but still well-deserving of social media fame - Alexander Falls. Located just off highway 99 in Callaghan Valley you will find the 43 meter falls. Compared to Brandywine this waterfall trickles down the side of three rocky drops in a much more gracious manner. This type of waterfall is known as a cascading waterfall for its obvious cascading like features.
If you're looking for a photoshoot a little different from the classic Brandywine and Shannon Falls then look no further. Many people, even locals, have never actually been to Alexander Falls. This may be the most underrated waterfall in the entire Sea-to-Sky corridor.
*We are not responsible if your social clout quadruples overnight*
P.S. Yes we are.
Difficult Score: EASY
Hiking Distance: No Hiking Required
Dogs Allowed: Definitely
Lifty Life Score Rating: 9/10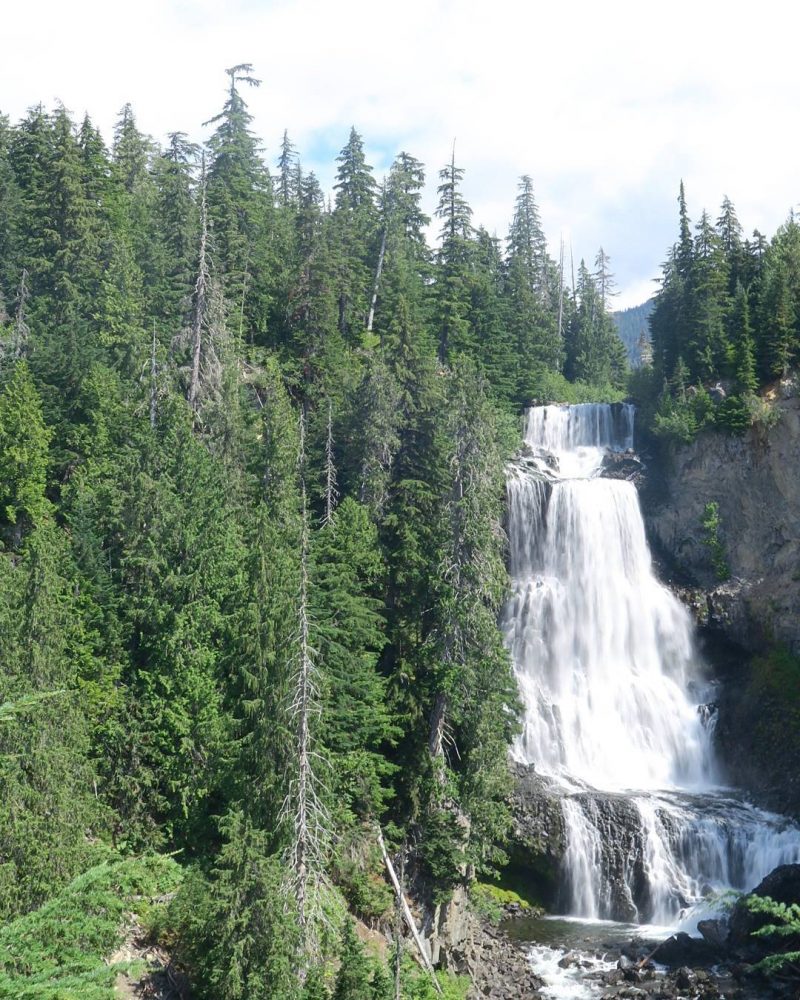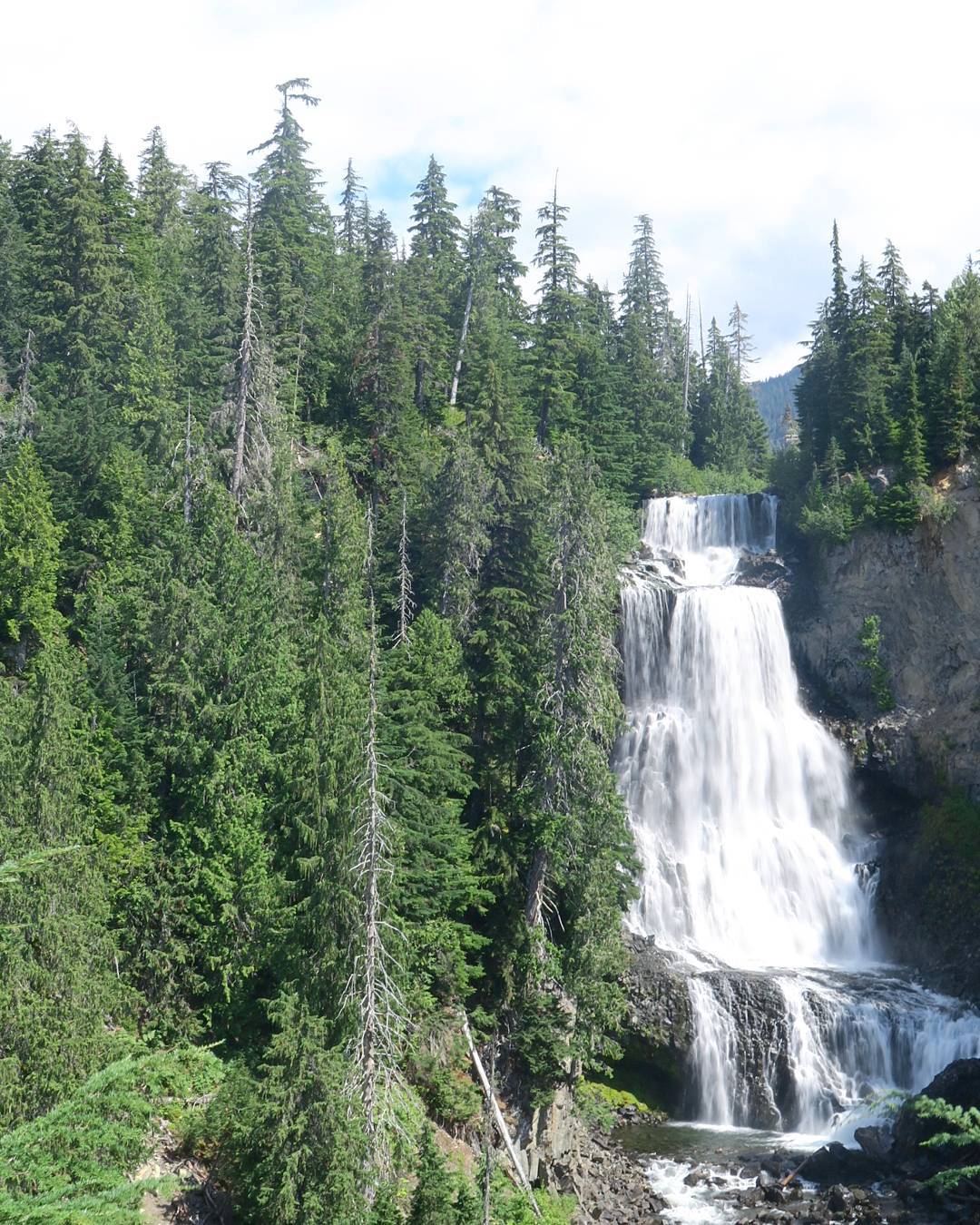 Everything you should bring to a Waterfall
Let's be honest, we all get super excited anytime our friends plan a trip to Whistler. The resort offers so many diverse activities from skiing to late-night dancing that it is easy to forget everything you need. Here is the list of MUST haves for your adventure chasing waterfalls - even though TLC tells us not too.
Sun Screen

Hiking Boots

Insect Repellant 

Fashionable Outfit

Sun Glasses

Camera (DSLR or Smartphone)

6-pack of Hey Y'alls

Reusable Water Bottle

Day Pack

First Aid Kit
Okay, fine.. you probably won't need a first aid kit. But it is always better to be prepared! Who knows, maybe your friend will scrape their leg and you can save them with one of your many Dora the Explorer band aids.
Top Photography Tips for Waterfall Photos
For those of you looking to take the perfect instagram photo of the falls make sure you follow these simple tips.
Shutter Speed 
When photographing Waterfalls always make sure you shoot using a few different speeds. If you want to capture the flowy movement of the water try shooting with a slower shutter speed - ideally 0.3 to 2 seconds.
Angles
Most photographers will take a photo of the waterfall from its intended position - the viewing platform. While the platform will produce a great looking image worthy of a few "likes" its best if you take a few minutes to maneuver your camera to a location "off the beaten path" you will get a unique view of the falls and really impress your followers. Don't forget to use a stable tripod otherwise a long-exposure shot will be difficult to execute.
Lenses
Try using wide-angle lenses and telephoto zoom lenses to capture the waterfall from a distance. Shooting close to the falls can damage your equipment if too much moisture is in the air. Remember that if your camera happens to come in contact with a lot of moisture to use silica gels or rice to help absorb any dampness.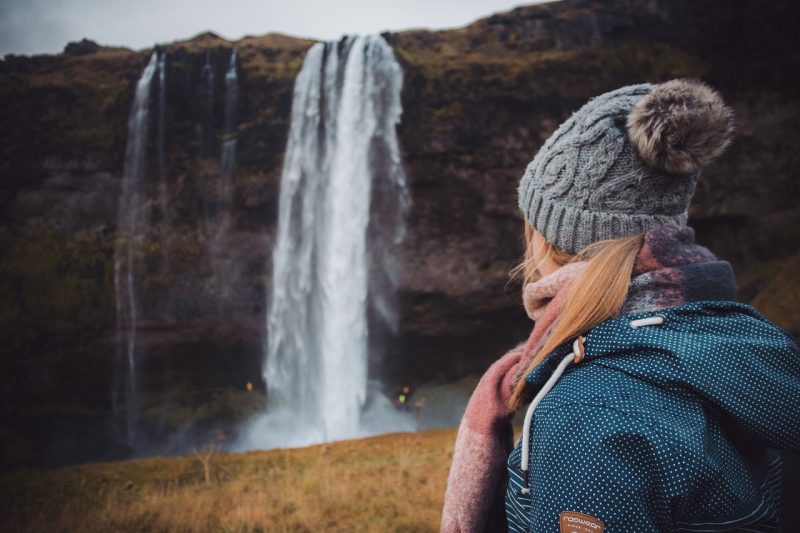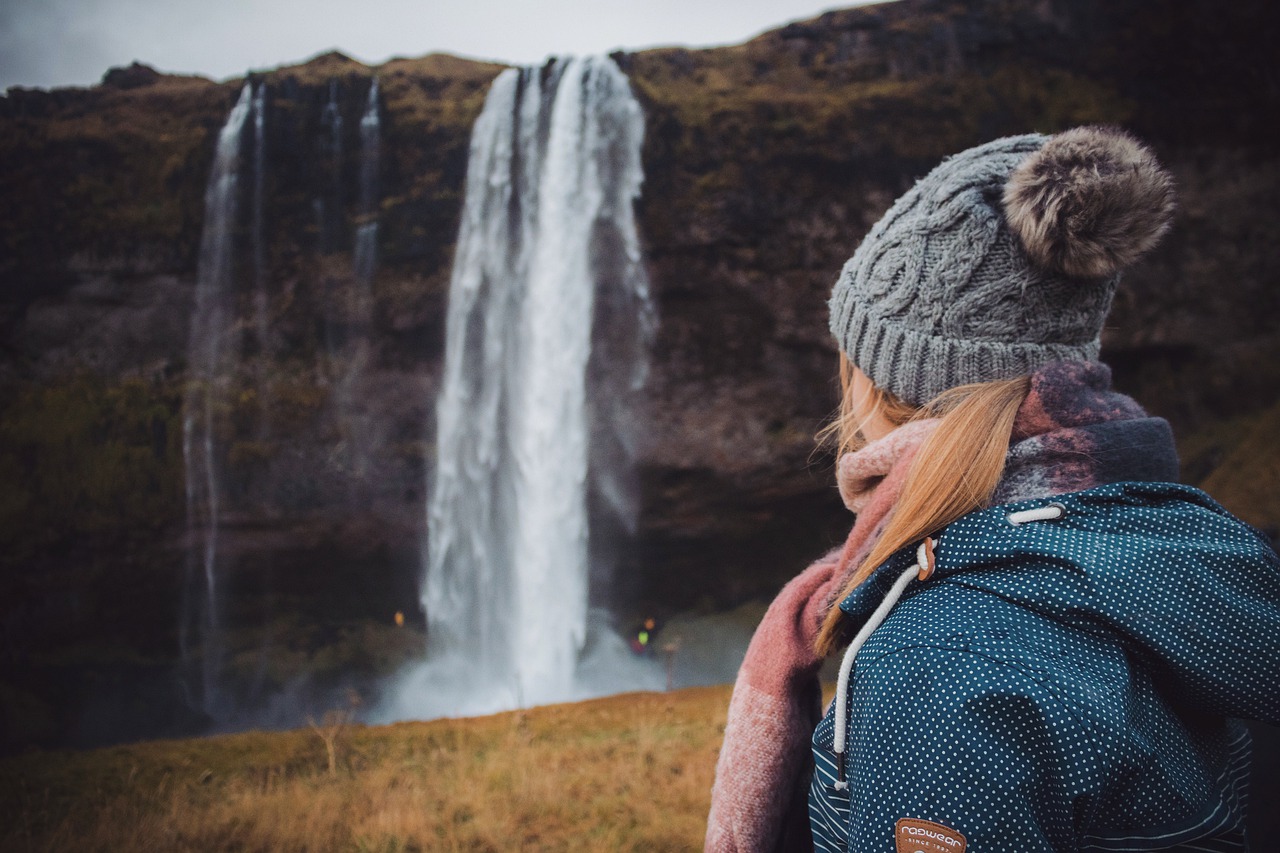 Waterfall Safety Tips
It is very important that when spending any amount of time around waterfalls that you exert a high level of safety.
Structured viewpoints are generally the safest place to be when viewing a waterfall. Typically these viewpoints are far enough away from the-splash-zone that you shouldn't get wet. Never lean or climb over the viewing platform.
If you intend on getting up close and personal with the waterfall use the buddy system and ensure you have adequate footwear. Watch your footing and move slowly. Test every rock before applying your full force.
In the unfortunate circumstances that you fall into the water do not fight the current. Usually the current caused by waterfalls is difficult for even the strongest swimmers. Keep your head above water and call out for help. The creek will likely be very cold and you will need to immediately warm your body upon exiting the water. Seek medical attention immediately.
All of the waterfalls mentioned in this article are managed by BC Parks and are generally regarded as safe and easily accessible for all visitors. Always abide by the safety signs posted. Check out this article for a basic safety and trip planning guide.
What is the Best Waterfall in Whistler?
The best waterfall in Whistler is Brandywine Falls. At 70 meters high it has an impressive decline as it prepares to crash into the creek below. The immense flow of the water causes a misting effect in the canyon which allows for plenty of miniature rainbows to be formed. It is the most photographed waterfalls in Whistler, BC for a reason.
How many waterfalls are there in the Whistler area?
There are over 9 waterfalls in and around Whistler, BC.
Shannon Falls

Brandywine Falls

Alexander Falls

Rainbow Falls

Nairn Falls

Joffre Falls

Cheakamus River Falls

Wedgemount Falls

Nineteen Miles Creek Falls
Do I need a vehicle to get to the waterfalls?
Yes, you will need access to a vehicle in order to get to the waterfalls in Whistler, BC. There are always an abundance of taxis in the Village ready to take you if you don't have your own car.